Indian fashion is renowned for its diverse and rich cultural heritage, with women's clothing being an integral part of this legacy. From Anarkali suits to designer Lehenga Choli, Pre-Stitched Sarees, and other Ethnic wear, Indian dresses for women have always been the epitome of elegance, beauty, and grace.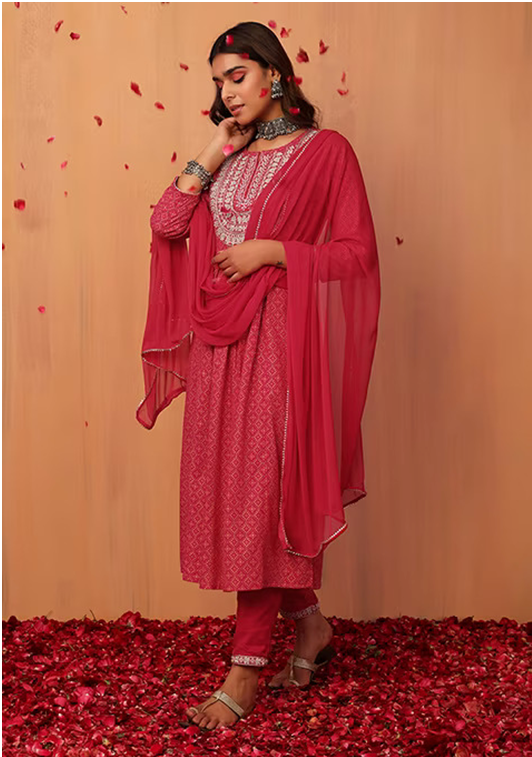 Ethnic wear for women encompasses a wide range of clothing, including sarees, salwar suits, kurtis, shararas, party wear gowns, ethnic crop tops, and more. However, in this blog, we will only explore the latest trends in the top 3 Indian dresses for women to give you outfit inspiration for the upcoming festive and wedding season.
Anarkali Suits
Anarkali suits are undoubtedly one of the most popular Indian dresses for women. Anarkali suits consist of a long flowing kurta paired with churidar, palazzo or cigarette pants and a dupatta.
In recent years, Anarkali suits have transformed, with designers experimenting with different styles, cuts, and fabrics. The extensive use of intricate embroidery and embellishments in Anarkali suits adds a touch of glamour and elegance to the outfit and the wearer's personality. From sequins to beads, Zari embroidery to mirror work, designers are using various techniques to create unique and beautiful Anarkali suits.
2023 Anarkali Trend Alert!
Long-floor length Anarkalis
Draped Anarkali Gowns
Embroidered Anarkali Suit with Dupatta
Embroidered Tiered Anarkali Gown.
Designer Lehenga Choli
Lehenga Choli is another popular Indian dress for women, which is perfect for weddings, festive parties, receptions, and other grand celebrations. This attire consists of a long flowing skirt or lehenga paired with a choli or blouse and a dupatta. Lehenga Cholis come in various styles, designs, and colours, ranging from simple and elegant to grand and opulent.
The latest trend in Lehenga Cholis is the use of pastel colours, which give a soft and romantic look to the attire. Another rage in designer Lehenga Cholis in 2023 is intricate embroideries and innovative embellishments, such as zardozi, mirror and thread work, Zari and sequin embroidery, which add a touch of class and a dollop of sassy glamour to the outfit.
2023 Designer Lehenga Trend Alert!
Abstract printed lehenga sets
Embroidered lehenga with sequinned blouse
Waist Tiered lehenga skirt
Layered Lehenga skirt.
Pre-Stitched Sarees
Sarees are an integral part of Indian culture and ethnic wear fashion. However, pre-stitched sarees are a modern twist on this classic attire, which has become increasingly popular in recent years.
Pre-stitched or ready-to-wear sarees are easy to wear and require no draping skills, making them perfect for busy women who want to look stylish and elegant.
We are in complete awe of the unique drapes and pleats in stitched sarees that create an effortlessly modern and contemporary look. Another hit trend in pre-stitched sarees is the use of bold prints and vibrant colours, which adds a touch of drama and regal flair to the outfit!
2023 Pre-stitched Saree Trend Alert!
Georgette Organza Ruffled Ready-to-wear Sarees
Mirror and Thread Embroidered Sarees
Pallu Belted Pre-draped Sarees
Embellished Border Designer Sarees.
Conclusion
Why settle for boring and mundane outfits when you can add a little spice and flavour to your wardrobe with these beautiful Indian dresses? Embrace the latest trends, let your creativity flow, and remember, fashion is not just about what you wear but how you wear it.